MESSAGE FROM AMÃNA BANK CEO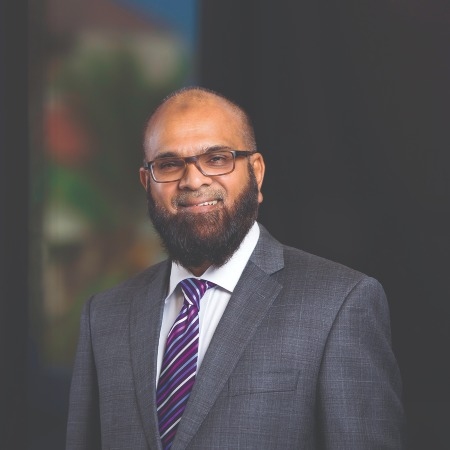 Dear Valued Customer
I hope you and your family continue to be in the best of health and safety.
Today is a historic milestone for Amana Bank, as we successfully complete 10 years of banking operations and I take this opportunity to thank you profoundly for being an integral part of this journey, as a customer and as an advocate of our unique people friendly banking model.
Having commenced our journey on 1 August 2011, Your Bank has seen strong progress, which was primarily fuelled by the growing support and confidence of our valued customers, which today counts over 380,000. Within these 10 years, we have reached LKR 100 Billion in Total Assets, while growing our franchise to 32 Branches, 19 Self Banking Centers, 5400+ ATMs and 850+ deposit points through our collaborations with LankaPay and Pay&Go.
Our performance has enabled us to build a strong track record of profitability and dividends. We are humbled by the various accolades in recognition of our progress which includes the 'Best Up and Coming Islamic Bank of the World' by Global Finance Magazine USA and the 'Fastest Growing Retail Bank in Sri Lanka' by Global Banking and Finance Awards UK.
We have predominantly served the SME sector which is the backbone of the Sri Lankan economy, where our people friendly banking model forms a strong strategic fit. Going beyond numeric, our core business operations and CSR activities are well aligned towards Sustainable Banking initiatives as advocated by the United Nations Sustainable Development Goals (UNSDG).
Stemming from UNSDG Goal No 10 on 'Reduced Inequalities' our flagship CSR initiative OrphanCare, has enrolled 3,000+ orphans from 80+ orphanages Island-wide, providing financial independence once they reach the age of 18. All Orphan enrollments are guided by Article 2 of the UN Convention on the Rights of the Child, which advocates against all forms of discrimination including race, cast, religion, ethnicity etc. This initiative is governed by an independent body of elite trustees of strong social repute and has already made 7 rounds of fund disbursement and qualitative care for 18+ orphans. (www.amanabank.lk/orphan-care)
Our mission towards enabling growth and enriching lives, led us to introduce our award winning 'Gold Certificate Financing' solution, which has served as a beacon of hope for over 50,000 customers, in their hour of need. Our teams passion, commitment and engagement towards upholding the principles of our universal value proposition, brought us the valued accolade of being one of 'Sri Lanka's Best Employer Brands' by World HRD Congress.
Having witnessed acceleration in customer demand for our digital banking services, our focus has been on our digital transformation journey with emphasis on superlative customer experience. Having drawn up the digital blueprint, I am excited on our prospects for the future in taking the Bank to its next level of growth.
I am thankful to our visionary Founder Chairman Osman Kassim, Founder Directors, incumbent Chairman Asgi Akbarally and the Board of Directors and Sharia Supervisory Council for their invaluable guidance. Finally, I would like to thank my 800+ team of passionate colleagues, for being the primary enabler of all the Bank's achievements.
As we move forward in the next phase of our journey, God willing, we will continue to work hard to ensure a superior service experience, and as always welcome your valued thoughts, suggestions and feedback.
After all, we are 'Your Bank'.
Mohamed Azmeer
Chief Executive Officer - Amana Bank PLC